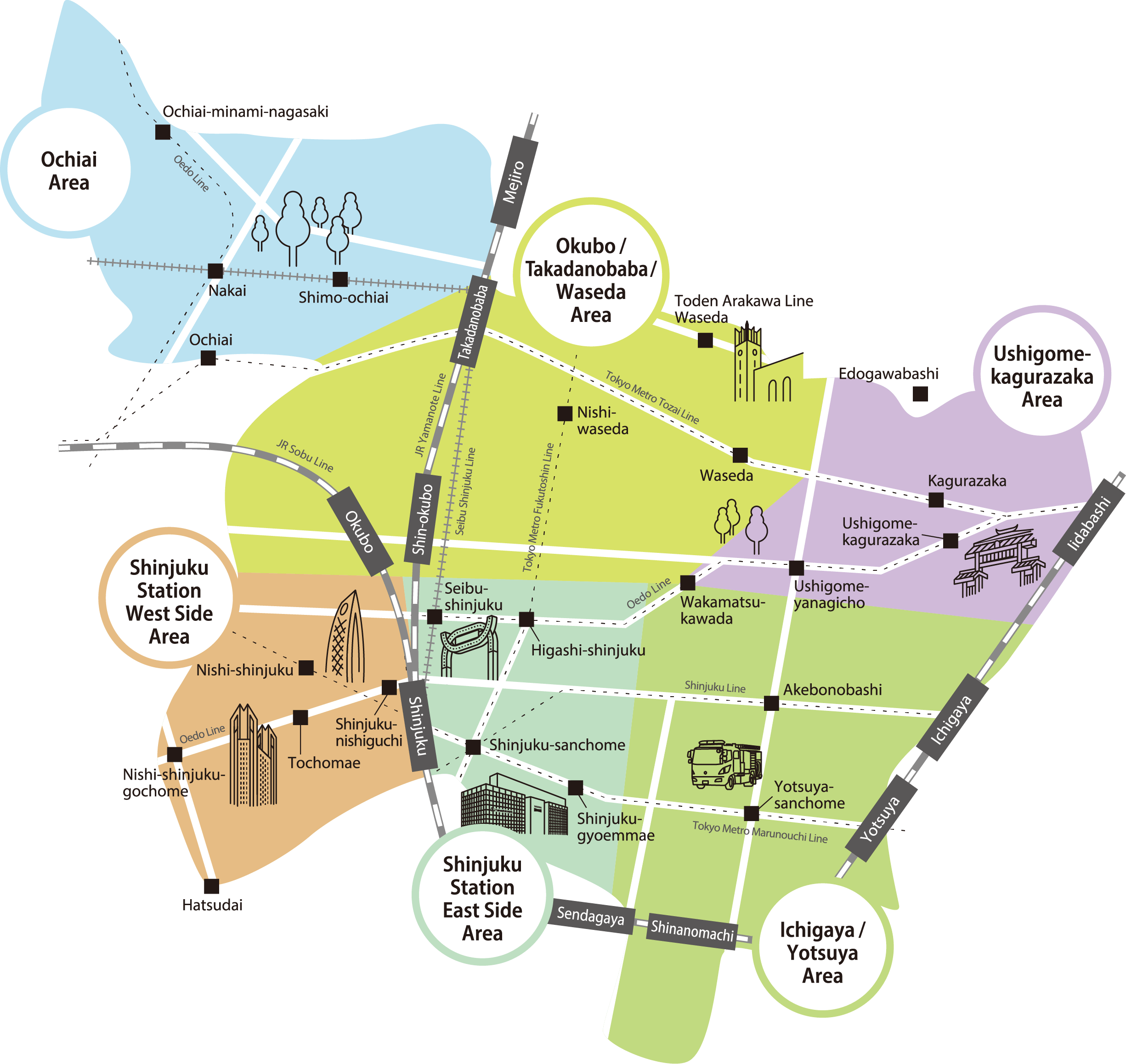 Shinjuku is a city where various and many events are held every day, including music, art, theater, entertainment and history exploration. Shinjuku Field Museum is a business in Shinjuku ward where cultural artistic activities are promoted by gathering and sending cultural art events where the promotor organizes a council of these events. On this website, we introduce cultural art events held in Shinjuku Ward. Please participate in the event and enjoy the city of Shinjuku.
This new city center starts when Tokyo metropolitan government announced "Shinjuku secondary city center construction plan" centered with the use of the trace to move the Yodobashi water filtration plant which was at Shinjuku station west entrance to Higashi Murayama in 1960. The Tokyo metropolitan government built Yodobashi water filtration plant in the 11 blocks according to the plan and sold seven blocks and a half of them to private sectors. The private companies who purchased these blocks established the Shinjuku New Center Development Council (SKK) in 1968 to cooperate with each other and to build a better city, and currently, it consists of 11 companies. Later, buildings were constructed in each block between 1971 and 1982, and most of the current city was formed. Beyond the rows of high-rise buildings the lush Shinjuku Central Park spreads, it is a characteristic area where old shopping streets and residential areas are still very much alive around them. On one hand, on weekdays, large-scale offices are in their operation and so crowds are bustling by a large number of people, on the other hand, on Saturdays and holidays, as the crowds are getting lesser due to the offices are closed and the town changes its atmosphere, there are various works are taken so as to create permanent bustle. As one of them, the "Thursday concert" by the Self-Defense Forces began from May 1977 to provide time for residents living in neighboring towns and office workers, and it is still continuing.
Many people might imagine this Shinjuku station east exit area as "Shinjuku" where around the east exit of Shinjuku station with long-established firms of presence, gorgeous Kabukicho called an all night entertainment place and Shinjuku Sanchome. Since Takaido Inn, the first Shukuba town on the Koshu-kaido Road, was located far from Nihonbashi (Edo), and so a new Gennroku Shukuba town "Naito Shinjuku" was built at the residence of the Naito family in Genroku 12 (1699), and it became the present large downtown area "Shinjuku". Although it is an area with a strong impression of shopping and eating and drinking, it is also an area where cultural and arts are concentrated, including movie theaters, theaters, art galleries, galleries, live houses, and Rakugo theaters. In the East Exit area of Shinjuku Station, Suehiro Street, where is surrounded by Meiji Street, Shinjuku Street and Yasukuni Street, has many calm eating and drinking places, and centered in "Shinjuku Suehirotei" the only wooden building Rakugo theater in Tokyo, space of a line is built up. This is Shinjuku east exit area where multiple districts next to one another with different atmosphere form a dynamic culture.
They are Ichigaya and Yotsuya areas that want to take on the history, culture and art of Shinjuku. For arts, Mizuma Art Gallery and Sato Art Gallery, where you can touch the latest art, Toy Gallery, where parents and children can enjoy and Tokyo Metropolitan Art General High School are educational sites that produce future artists. Also, there lined up super unique museums worth seeing such as Min-on Music Museum, Shinjuku Ward Historical Museum, Teikoku Databank. In addition, we should not forget the Japan Foundation and Korea Cultural Center, where you can learn and experience the culture of various countries. And, another feature is that Yotsuya is called a temple town, as there are many temples. Besides the shrines and temles of Oiwa-san for Yotsuya horror story, there are many spots such as Hanzo Hattori, Heizo Hasegawa and Kenkichi Sakakibara that not only history fans and historical novel fans, but many other people are attracted. It is not an exaggeration to say that Ichigaya and Yotsuya are areas where we can feel history, culture, and art beyond both time an d space in various aspects.
Ushigome Kagurazaka, which has been alive mainly since Bukemachi in the Edo era and Hanamachi in the Meiji era, is a town almost overlaps with a Heise map and an Edo era's drawing picture map. While many towns in Tokyo have changed, there is a mysterious urban space where the slopes and alleys complicated. In this town, there are people who are involved in various performing arts such as not only geishas, but also Noh music, Nagauta, Shinnnai-bushi, Kouta, Koto, Shamisen, Japanese dance and Rakugo, and there are many people gather to hand down unique Japanese cultures such as Japanese tea ceremony, and even now we can still closely feel Japanese tradition. It is also known as a place related with Koyo Ozaki, Soseki Natsume, Kyoka Izumi, Hougetsu Shimamura and Sumako Matsui. However, the charm of this place is not only tradition, but also to have been sending its culture while interacting with tradition and modernity. Even now, it has not changed and a variety of talents that lead the latest era in such as dance, music and art gather, and furthermore, many French people live, and in the alley with old-fashioned aspects, French culture produces a unique elegance. In the past few decades, with young people joining from NPOs and volunteers for town planning, we send such charms as numerous cultural events. We are creating a community in the middle of Tokyo. That might be the biggest attraction of Ushigome Kagurazaka.
Waseda University, which represents an education and culture town of Waseda and Takadanobaba, has been producing many writers, theatrical people and journalists representing Japan. Many events such as exhibitions, lectures, and theaters are open to public at cultural facilities such as the Okuma Auditorium of an Important Cultural Asset, the Tsubouchi Memorial Theater Museum, the Tsubouchi Memorial Theatre Museum, the Aizu Yaichi Memorial Museum and the Waseda Small Theater Drama Museum. There are also many ordinary restaurants as it is a students town, and the area around Takadanobaba Station is also known as a competitive ramen shop zone. Hosho-ji Temple and the Ana Hachimangu Shrine in Babashita-cyo each distributs a charm for "Ichiyoraifuku" and "Ichiyoraifuku" on the day of the winter solstice, and being thought to have divine favors such as the prosperity of the family. In addition, in Okubo, which is said to be the largest Korea Town in Japan, there line up not only Korean but also Asian and Middle Eastern countries' dining and grocery outlets and Even within Shinjuku-ku where there are many foreigners, it is the most multicultural and international city. Waseda, Takadanobaba, and Okubo can be said to be a district filled with energy, where young people gather and enj oy diverse cultures.
Do you know that "Edo" was an area where dyed goods were produced along with "Kanazawa" and "Kyoto"? and it was during the Meiji and Taisho eras when dyeing companies began to migrate to this Ochiai after coming down the Myoshoji river to the Kanda river where the water of the river was clean from "Kanda Kondacyo where it was its center in the Edo era. Since then, this "Ochiai" has supported one part of Edo dyeing as a town of dyeing. The times of Japanese clothes have changed to Western clothes, and while the vitality of those days is fading, but even now there are many workshops here and there that continue to keep the "Edo dyeing" in "Ochiai". Starting in 2009, we began organizing an event "Dye Path" as a revitalization project in the city with "Dyeing" as its key word. Through the events, we had many people and students who live in this "Ochiai" participate and we could reconfirm it a "Dyeing Town". Also, in "Ochiai" there were many literary artists and artists such as Fumiko Hayashi, Yuzo Saeki and Tsune Nakamura and can be also found one artistic aspect. "Ochiai" where rivers and rivers meet each other, now became a town where people and culture meet each other.